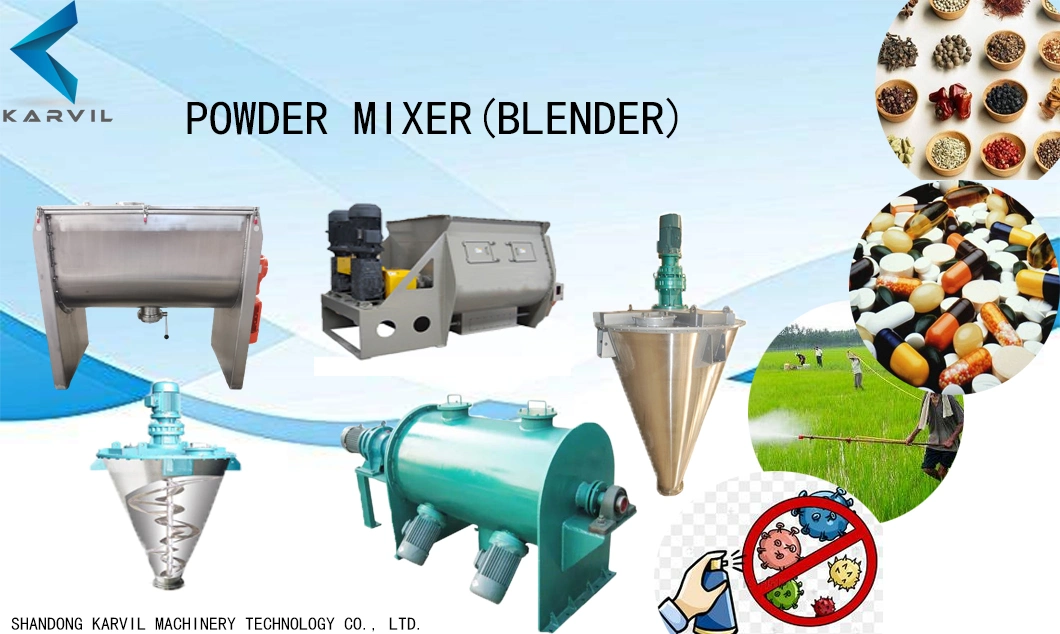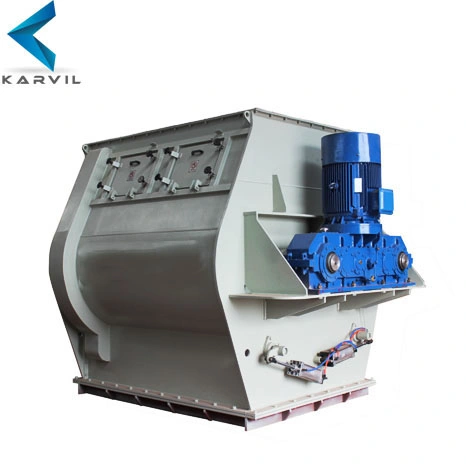 Product Description
This series machine takes a strong and high effective mixing as its features the two mixing axles rotate reversely at an identical revolution in the horizontal drum body. The paddles, specially distributed on the axle ensure that the material move radially, circularly, and axially, so as to form a compound motion, and in an extremely short time, the material is mixed evenly. The atomizing device can be distributed on the cylinder cover to realize the solid-liquid mixing.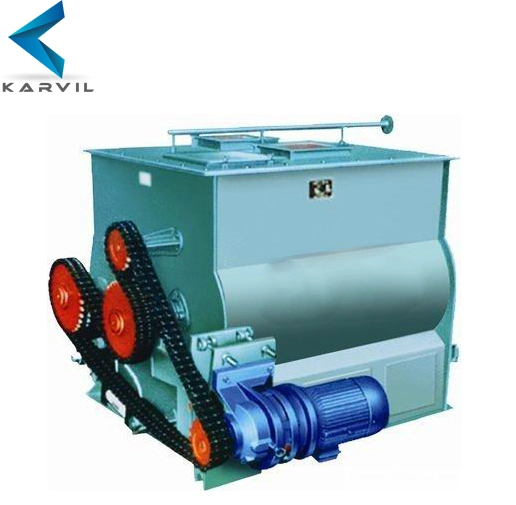 Main Features
1. The equipment can run in a well-sealed situation, with high precision, high speed, and low energy consumption.
2. Pneumatically, electric and manually discharging method.
3.The atomizing device can be distributed on the cylinder cover to realize the solid-liquid mixing.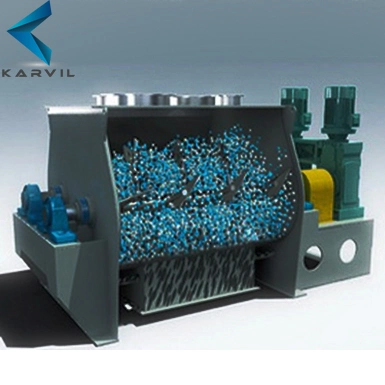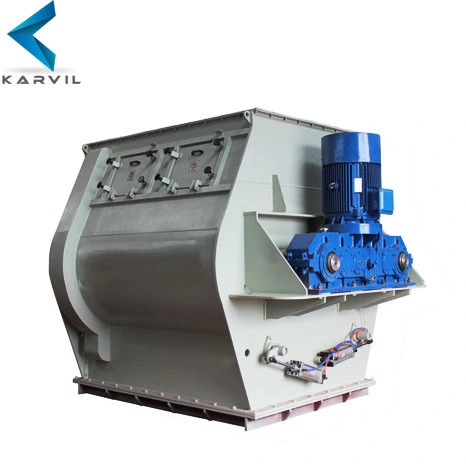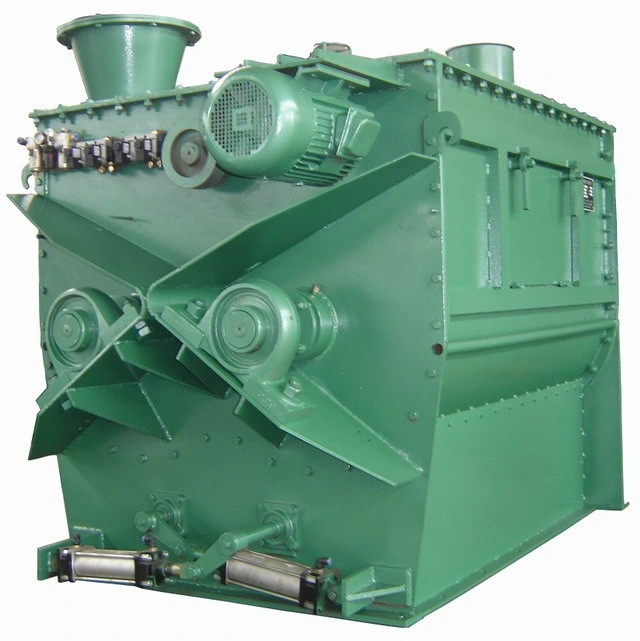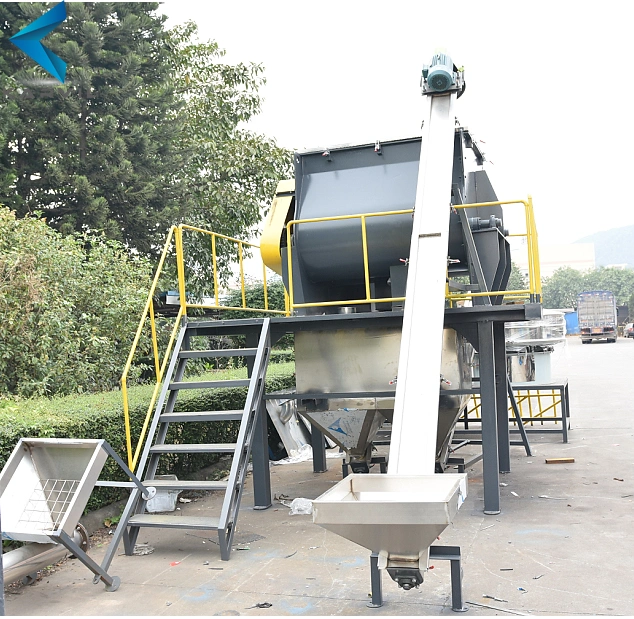 Equipment material:
ordinary carbon steel, SUS304 stainless steel and various equipment materials are available for users to choose, meeting the requirements of corrosion and wear resistance of different products.
Liquid addition:
The liquid material can be atomized into the mixer by spraying, so that a small amount of liquid can be mixed evenly after adding.
The non-gravity mixer has high mixing efficiency and large production capacity. It is generally used in production lines with various large-scale mixing quantities. It is designed for production line operation, automatic batching, automatic mixing, automatic packaging and other functions.
| | | | | | | | | | |
| --- | --- | --- | --- | --- | --- | --- | --- | --- | --- |
| Model/Specs(m³) | WZ-0.05 | WZ-0.1 | WZ-0.3 | WZ-0.5 | WZ-1 | WLDH-2 | WLDH-3 | WLDH-4 | WLDH-6 |
| Mixed amount/batch (Kg) | 24-30 | 40-60 | 120-180 | 200-300 | 400-600 | 800-1200 | 1200-1800 | 1600-2400 | 2400-3600 |
| Equipped Power (Kw) | 2.2 | 3 | 4-5.5 | 5.5-7.5 | 7.5-15 | 15-18.5 | 18.5-22 | 22-30 | 30-37 |
| Weight (Kg) | 250 | 360 | 750 | 880 | 2100 | 2740 | 3800 | 5100 | 6600 |
Each batch processing capacity is 0.1-20 cubic meters
0.3~10 tons of materials processed per batch
The mixing time used is 2~10 minutes
Drive configuration power 3KW-150KW
Equipment material can be 316L, 321, 304, carbon steel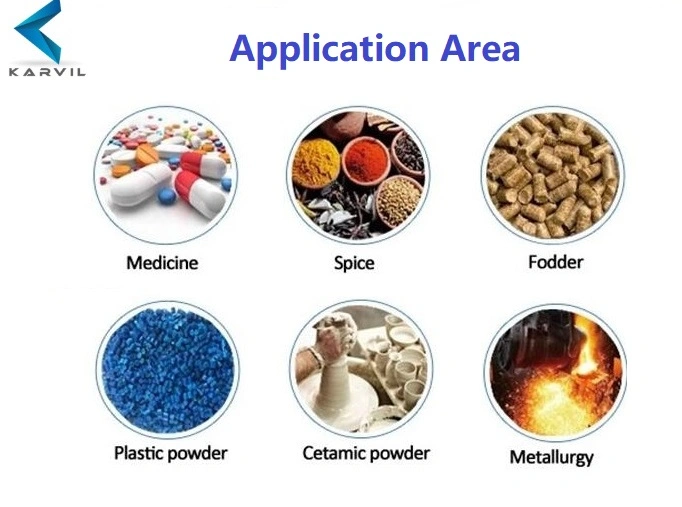 Application Area
Horizontal non-gravity mixer is suitable for the drying and mixing of the following materials: chemicals, detergent, fertilizer, feedstuff, additive, wheat flour, milk powder, perfume, micro ingredient, coffee, gourmet powder, salt, plastic and all kinds of pulp, powder material
Shandong Karvil Machinery Technology Co., Ltd. is specializing in the research, design, manufacturing and sales of mixing machine, grinding equipment and reaction machine. The company is committed to advanced technology of machine, strict quality control standards and perfect sales service experience to achieve a win-win situation with our customers.
Karvil products have been successful used in the field of powder processing, food, medicine, fine chemical industry, cosmetic, adhesives, paints, inks, dyes, pastes, organic solvents and ceramics, etc.
Karvil engineering team constantly explore new technical points and promote perfect solutions for our clients through efficient communication according to the production application.
Our company has a series of strict standards system to control the purchase of raw materials, the rationality of design, manufacturing process, during inspection, product inspection, which could ensure the high quality of our products and create value for our clients.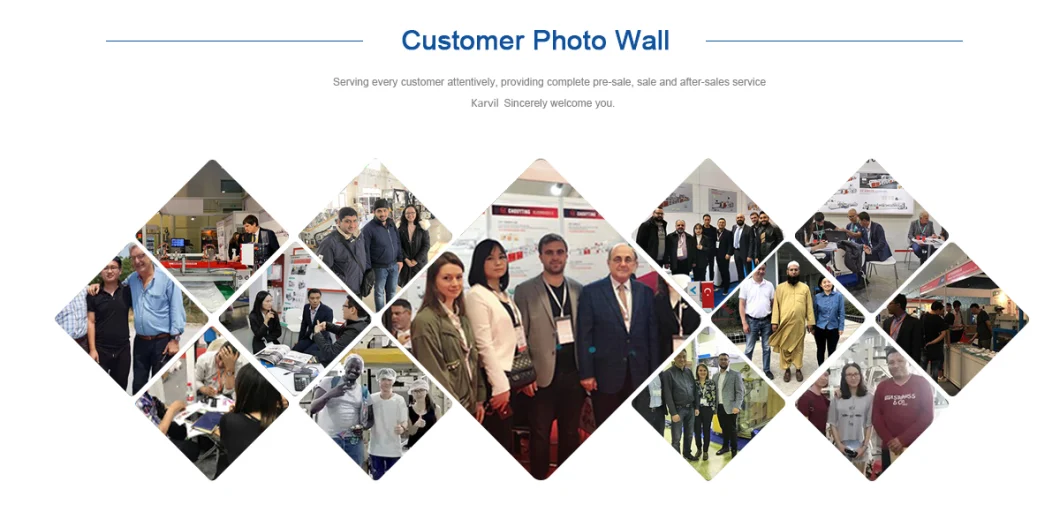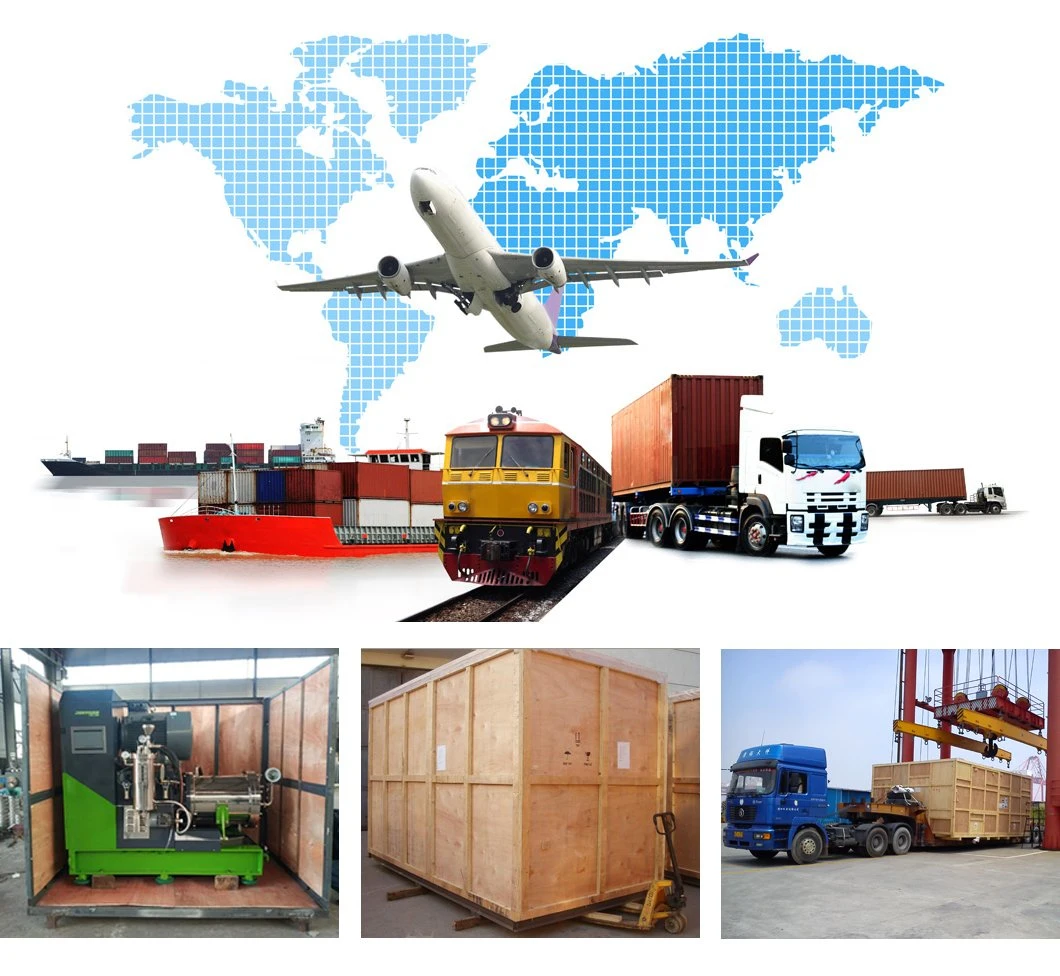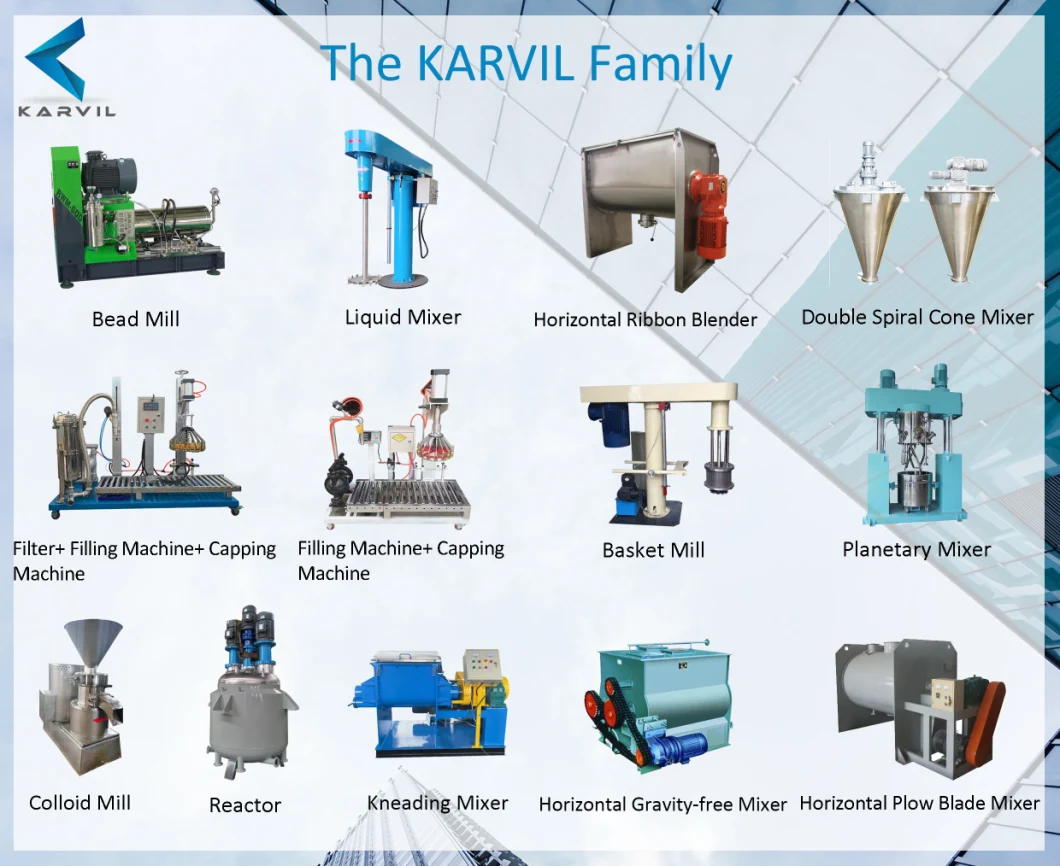 FAQ
1. Manufacturer or trading company?
We are a manufacturer with strict production standards in China.
2. Where is your company?
Our company is located in Yantai, Shandong, 2-hours driving from Qingdao.
3. About your company's visit?
We can pick you up at Qingdao Airport conveniently, and then we can take you to our factory.
4. What is the main market for your company?
Asia and Africa, Australia, America, Europe.
5. Can you provide customized products?
Yes, we have professional engineers to meet your special design needs, so we can provide customized products.
6. What is your delivery time?
It usually takes about 20 to 30 days, the exact time also depends on the type and quantity of the product.
7. About the product warranty?
Usually, we provide a 1-year warranty for the products that have been sold, but we can also provide life-long service when you need it to maintain a long-term relationship with you.
8. What are the payment terms?
T/T, L/C, etc.